The appeal of international school jobs in China is not lost on Chinese parents. Aside from private schooling, this is considered the best education option money can buy in the country. There are a lot of benefits that come with teaching in international schools – these are, after all, the best-paid teaching jobs on the land. The financial benefits are even more pronounced if you have taught in one before.
If you have prior experience teaching in an international school, it helps to remember that the teaching experience will never be identical. Even if you've just scored a great job with a school you have worked in elsewhere, the overall teaching experience will still be somewhat unique. 
This is China, after all.
Looking for the best teaching jobs in China and wondering how to get a foot in the door? Read our comprehensive guide on How to Nail Your International School Job Interview.
What is unique about teaching in international schools in China?
China is home to over 900 international schools (primarily British and North American) and a few dodgy institutions infamous for hiring inexperienced and hapless foreigners. Obviously, you'll want to seek work with the former and steer clear of the latter.
Keep an open mind, however, as there are some exceptional Asian schools that give our Western-style institutions a run for their money. The key is to do a lot of research the international school options, specifically in China. This way, you'll better understand what you'll be signing up for.
International schools offer a greater variety of subjects than traditional schools: from English to music, art, literature, all manner of sciences, social awareness, sports and the arts. Priority in hiring is usually given to those with prior international school teaching and those with subject specialization. You'll get even more ahead of the pack if you've previously worked with the same curriculum.
All this doesn't mean your chances of scoring a job are nil if you haven't, but it does mean your general teaching experience needs to be extensive and you need to show a willingness to undergo training. You'll basically need to impress them, one way or another!
What do you need to teach in one of China's international schools?
Requirements and regulations for international school teaching can vary greatly depending on the school. Some, like Beijing's Canadian International School, will specifically insist on a teaching qualification from Canada. Most, however, require you to fulfil the requirements and qualifications detailed in our Am I Eligible? page.
There are also international schools that run on a Chinese curriculum, which usually means you'll be privy to a few military-style exercises in the morning and a two-hour nap in the afternoon. We know it sounds weird, but also incredibly cool to experience.
It's worth researching the specific school(s) you want to apply to. Because when we said China was unique…we meant it!
There is a caveat to the strict requirements for working in International Schools, which is quite unique to China. Considering the high demand for foreign teachers and the lack of enough applicants, requirement standards can be rather 'fluid' if you catch our drift. Apply to the right school at the right time (i.e., when they're desperate for teachers), and they may overlook a lack of previous experience. This usually doesn't happen with the best international schools. Still, it's an option worth considering if you're willing to forego prestige to get a look-in.
If you're not fully qualified to teach in an international school, look for positions for substitute teaching, assisting, and internships. These roles aren't too common, but they seldomly pop up. Your pay won't be as high, BUT a secondary position can get your foot in the door of international schooling (of the prestigious kind). If this is your long-term goal, it could be worth your while.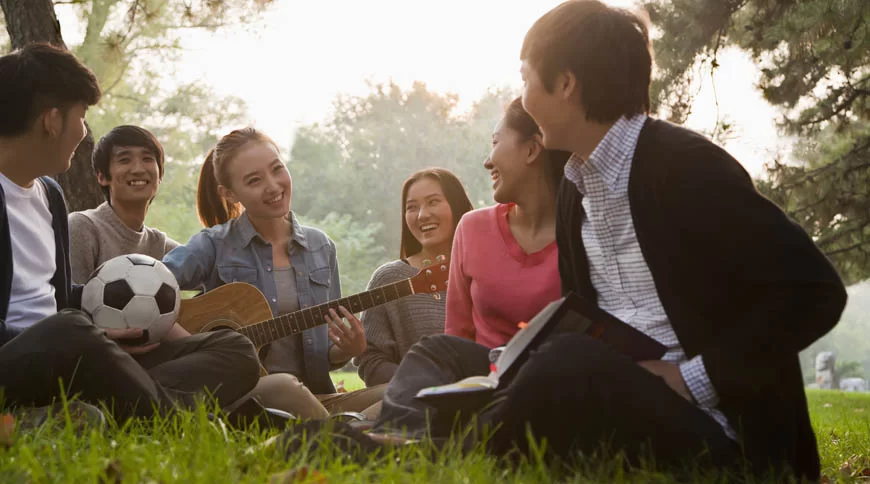 What are the benefits of teaching in an international school in China?
Excellent overall teaching conditions make international school jobs highly coveted. Class sizes are usually small, assistance is high, and pay is fabulous (among the highest teaching jobs worldwide). And, if that's not enough, it always looks stellar on a teacher's CV.
Here are just a few reasons why these are the kinds of jobs every teacher wants:
Stellar Multi-cultural Experiences: Teaching in an international school in China provides an immersive cultural experience. You'll interact with students, parents, and colleagues from diverse backgrounds and foster a deeper understanding and appreciation of Chinese (and other) cultures.
Rewarding Professional Development: International schools in China often prioritize professional development for their teachers. Typically, that'd be done via training programs, workshops, and resources to help you enhance your teaching skills and stay updated with the latest educational practices. This can contribute to your long-term career growth.
Impressive Salaries and Benefits: International schools in China offer some of the best teaching salaries packages worldwide, including benefits like housing allowances, health insurance, flight allowances, and yearly bonuses.
Fantastic Travel Opportunities: China's central location means you have easy access to various travel destinations within the country and all across Asia. You'll have the time (and money) to travel to your heart's content!
Networking and Professional Connections: Working in an international school allows you to build a global network of colleagues and educators worldwide. This network can provide valuable professional connections, and collaboration opportunities, which can open up avenues for career advancement.
What's it like teaching at international schools in China?
There's no denying that following a pre-set curriculum can make a teacher's life easy, except when it doesn't. If you're an experienced teacher and love to test teaching boundaries and do something unique, these jobs (and following a strict curriculum) may not exactly suit you.
In saying that, teachers appreciate the assistance and bonuses that come with these positions in China. Usually, they include Western-style housing, health-care payments, initial flight reimbursement, R&R flight reimbursement and extensive holiday pay on top of the high salary. Score a job with the right international school, and you could be looking forward to a very comfortable expat life in China. Want to feel like royalty teaching in China? That's pretty much the way international school teachers are treated here!
When it comes to the teaching experience itself, this varies greatly depending on the school. Some faculties are brand new and boast state-of-the-art technology and facilities, while others look like they haven't even seen a lick of paint in a decade.
Generally, however, you'll be immersed in a motivating environment with engaged parents, committed students and welcoming colleagues.
The workload for teachers in international schools is usually relatively high, with many extra-curricular activities being compulsory for teachers, meetings in the evenings and some weekend events.
Are international school jobs in China well-paid?
Yes, they are. Although, given the workload and pressure, this can be debatable. Salaries can range from USD 3,500 up to USD 5,000 a month for the best-paid positions in Tier 1 cities, your experience and qualification being the most significant determiners of your initial salary. Consider all the extra benefits and the location of a school as pivotal to your final decision.
Living and teaching in an international school in China can be a life-changing experience. It allows you to embrace an exotic new culture (complete with exquisite cuisines and outstanding experiences) and offers a chance to boost your teaching CV – perhaps more so than anything else you could ever do back home.
See our Teaching Destinations page for more insider tips on which city may be just right for you.
For more information on Salaries, see our salaries blog and understand how much you can make and save by teaching in China.